Imagine a scenario where you have moved into your brand new home. All your furniture is set, your room looks beautiful, and you have had a long day of moving in and are ready for some much-needed shut-eye. So, you pull out the nice bedsheets and begin to lay one on your bed. The first two corners are in, GREAT! But as you move on to the third, you realize it is not reaching. You figure out you have got the wrong bed sheet size.
The good news is you will never make the same mistake again because here is a guide on all kinds of bed sheet sizes that you need to know about, such as the dimensions for single bed sheet size, queen bed sheet size, etc. First, let us look at the types of bed sheets. Bed sheets are broadly classified into two main types, i.e. flat sheets and fitted sheets.
Flat Sheets
Flat sheets are loosely fitted and can be used over a wide size of beds, so it is possible to correctly guess the right sheet size for your size of bed just by picturing the fitting in your head.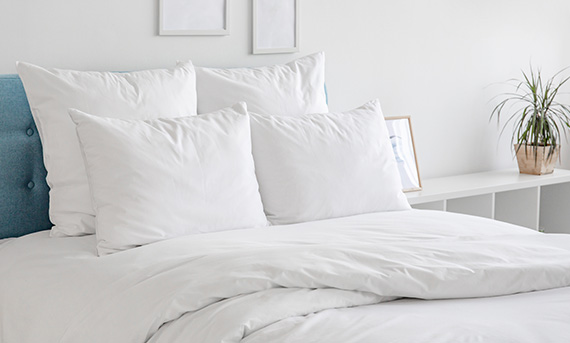 However, you can follow the following bed sheet sizes chart to find out the measurements that need to be followed to get the size just right- 

| | |
| --- | --- |
| BED SIZE | BED SHEET DIMENSIONS |
| SINGLE BED | 60″ x 90″ inches ( 152.4 x 228.6 cm) |
| DOUBLE BED | 78″ x 98″ inches ( 198 x 248.9 cm) |
| KING BED | 108″ x 108″ inches ( 274.3 x 274.3 cm) |
| QUEEN BED | 90″ x 108″ inches ( 228.6 x 274.36 cm) |
Fitted Sheets
Blue Fitted Sheets fit into the corners of your mattress. They lock on to them near-perfectly and do not budge or move after. They remain interlocked in a position, meaning there is very little wrinkling, and the bed sheets look neat.
The only problem with fitted sheets is that you have to be particular about matching the dimensions of the bed sheet with the bed. It is much more important to check and stick to the measurements mentioned below, like king-size bed sheet size in cm, double beds, etc.

| | |
| --- | --- |
| Bed Size | Bed Sheet Dimensions |
| Single Bed | 78" x 36" x 10" inches ( 198 x 91.44 x 25.4 cm) |
| Double Bed | 75" x 48" x 10" inches ( 190.5 x 122 x 25.4 cm) |
| Queen Size | 78" x 60" x 10" inches ( 198 x 152.4  x 25.4 cm) |
| King Size | 78" x 72" x 10" inches ( 198 x 182 x 25.4 cm) |
Measuring Your Mattress Size
You must understand how to measure your mattress size. Not all beds of a certain type will be the same. Many variants may affect the bed's final size, such as the headrest, board, bed shelves, etc. So just blindly following the standard may land you in some trouble. It is always better to measure and check for yourself first.
Firstly, make sure to remove any kinds of sheets and coverings your bed mattress might have. These will mess up your measurement and will affect the final readings. Then, with a measuring tape, carefully measure your mattress's height, width, and length from end to end. Note those numbers down and match them with the given dimensions of your fitted sheet. If the fitted sheet measurements are slightly higher or the same, then you are good to go. If it is too low or too high, the sheets will either be too loose or will not cover the whole bed, which is something you surely want to avoid.
Additional Types of Bed Coverings
Apart from the two general classes of fitted sheets and bed sheets, there are other bed coverings too, such as duvets and bed skirts.
Duvets
A duvet might look like it serves the same purpose as a comforter, but that is not the case at all. It is a bed cover filled with down feathers, wool, silk, or synthetic material. It covers the top part of the bed over the normal bed sheets and drapes over the boundaries. 
For duvets, the general rule to follow is to make sure the duvet's measurements are slightly higher than the mattress after putting on a bed sheet.
Summing Up!
So there you have it. With this new information in your arsenal, your bed-making skills will surely receive a strong boost! There may be some alterations from the given numbers as you switch from brand to brand or from one mattress type to another. For example, a simple standard mattress will be thinner than a foam mattress. But the changes will not be too large and can be managed by you easily by keeping the data given here as a reference point.