We're just getting started. I know it's a cliché. Almost everyone has used it, but frankly, we are just getting started. After all, by some estimates India is the third-largest furniture market in the world.
The past 10 years have been an amazing journey, like a tempest trapped in a whirlwind, wrapped in a tsunami of diverse experiences. India was just beginning to wake up to its potential when Ashish and I started Pepperfry as an e-commerce marketplace. A year into our journey, we pivoted to focus on selling furniture and furnishings. And Pepperfry, as you know it today was born.
Yes, it was a challenge. We Indians like to touch the wood, knock on it, and even feel the texture before we bought furniture. Ashish and I often felt we were crazy for trying to convince people to buy furniture differently, by making people purchase furniture off their screens, by relying on a picture on a screen, and by trusting people behind those pictures. I won't say, we did it all by ourselves. Urban Ladder, FabFurnish, and many others played their part. We wouldn't be here without them.
Today, we stand on the threshold of a landmark year in the history of Pepperfry, and, as our team pulls out all the stops to propel our company ahead, it's time to take stock and learn from the year gone by.
What happened during the pandemic?
It hit us, just like everyone else, like a ton of bricks. Everything shut down for almost three months and then again from time to time through 2020-21. Customers visited our website, put items in their wishlist, and then logged off. These were the tiny beacons of hope that lit up those dark days, an affirmation that our customers still loved us. We wouldn't have gotten past it all without them.
Helping the Community, One Entrepreneur at a time
Pepperfry's marketplace has always stood for channelling the creativity and the spirit of entrepreneurship found across India. Through the pandemic, we worked with thousands of merchants, manufacturers (most of whom are small business owners), and craftsmen to ensure that they stayed safe and that their businesses survived once the shackles imposed by the pandemic lessened. I am happy to report that most of our business partners sustained their businesses through a prolonged tough time.
What do the FY2021 Numbers Say?
Despite much of the year being washed out, our revenue only declined by 13%. If that isn't the sign of a great business franchise, I'd be hard-pressed to figure what would be.
Our revenue, except for the pandemic-driven aberration in FY2021, has continued to rise. In fact, to give you a sneak peek into the future, as things normalized in FY2022, we have already left the pre-Covid revenue levels far behind.
However, it's not as if we were only living on a prayer (I promise that's the last Bon Jovi reference).
Through a bunch of changes on our site and in the user interface, we managed to increase customer stickiness across platforms. This meant that even as we cut our marketing spends close to 40% in FY2021, our customers kept coming back (The trend is intact. Currently, 50% of our business each month comes from repeat customers).
After catering to the initial wave of demand for work from home furniture, we rearchitected merchandize selection to deliver a wider, highly differentiated bouquet of furniture and furnishings choices across product groups for our customers. This resulted in an increase in Pepperfry's average order value last year, a trend that's been consistent over the years.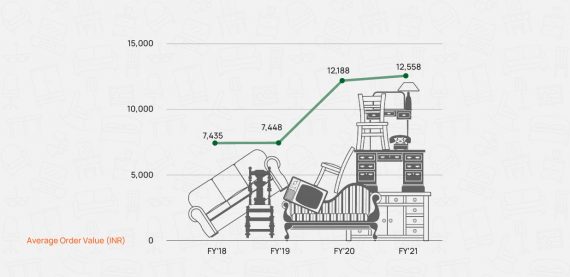 We've always been prudent on costs. While growing up in middle-class families, a Rupee saved is a Rupee earned was drummed into our heads. Last year we took this a notch higher. Our Supply Chain costs were lowered by 12.4% revenue as we improved vehicle utilisation, re-engineered material handling, and renewed our fight on waste reducing damages in transit. These savings were used to expand our technology capabilities for the future, after all, it's our tech backbone that allows us to service customers across 500+ cities in India, seamlessly.
Courtesy all this, we reduced our underlying earnings before interest tax depreciation and amortization (EBITDA) by 60% in FY2021, the third straight year of nearly halving losses.
In the past, we have often mentioned that Pepperfry stands for profitable growth. Therefore, it should come as no surprise that Pepperfry was EBITDA profitable in August and November 2020. I know that profitability is but a milestone for any good business. However, it feels good to know that we have now established proof of concept that our unit economics and financial stack can take us to profitability whenever we want.
Looking Ahead
Our goal has always been to create value for our customers, shareholders, and business partners and I am confident that our financial metrics will only keep getting better. As I write this, our sales run rate for Jan 2022 is already 50% higher than the same period in Jan 2021.
Looking ahead, we are committed to the metaverse and in doing so are building augmented and virtual reality solutions that will blur the lines between what's virtual and what's real. Imagine a Pepperfry Studio where everything is virtual, without a single piece of furniture in the Studio. We're working to make it real.
We entered the year with 73 Pepperfry Studios, and courtesy our franchise program, we have already crossed 100+ studios this year and expect to get to about a 150 by March 2022. As the new year unfolds, we will keep building on our strengths while exploring high-margin whitespaces like modular furniture and mattresses.
The future is bright, and it begins now.
– Ambareesh Murty, Co-Founder & CEO of Pepperfry