Winters are coming, and so are the celebrations. Makes sense to switch things up a little to be ready for an impromptu cocktail party. After all, you don't want to find yourself dining in a room lacking class and eloquence.
We must admit the easiest way to add a hedonistic flair to your home is by adding a stylish bar cabinet. And nope, there is no rule which states that you can have a rack only if you have got spirits to store. Sparkling water bottles will do just fine–just adorn them with lemons when serving.
8 Styles to Keep Your Bottles Chilled
From Star Wars to Passengers to The Shining, we have lost count of the iconic bars that have beguiled us while turning us green with envy (eh! at least green fits the Christmas theme). Not anymore! Here at Pepperfry, we have got some brilliant styles that you can incorporate into your home to up your drinking game (literally!) while adding some personal touch to your cooling-off zone.
We mention 8 such styles below:
Norah Rio Solid Wood Bar Cabinet
Looking for a perfect background for your rendition of Jaskier's 'Toss a coin to your witcher'? Then go for a 'bar in a barrel' look, and add some rustic charm to your living room with this wood bar cabinet in a provincial teak finish. And if you fail miserably at crooning those tunes, at least you have the satisfaction that you are in an Irish pub-styled room.
Toshi Bar Cabinet
Want to steer clear from wood but still be dramatic? Add some mid-century elegance ala Mad Men style with an Acacia wood cabinet from Orange Tree. It looks simple on the outside but opens up dramatically to stemware racks, multiple shelves, and drawers for your bar accessories, giving ample space for all your spirits.
Pro tip: Complement those brass legs with an elegant gold-finished stainless steel bar tool set.
Wheeled All-In-One Bar Cabinet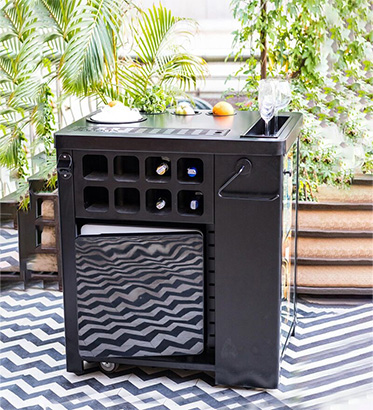 Gloomy winters require cool drinks for warm feelings. What better way to notch up your home bar game than with a sleek black metal bar cabinet with an in-built fridge? Stir up fun with its DIY cocktail station and customize its laser-cut drip trays.
Wheel it around (when it isn't fully stacked with over 20 bottles) while performing "You can never tell," like Thurman-Travolta in Pulp Fiction.
Nebula Bar Unit
Sure, winters are dark and moody, but your bar cabinets shouldn't have to be. Why not dress them up in earthy shades to create a bar resort feel while using up the corners of your space? Ratchet up your home's sophistication by placing a Lyon teak tall cabinet in an empty nook of your kitchen, dining room, or living room…you get the drift, right?
And while you are at it, embellish the mini service countertop with Butterbeers!
Aura Solid Wood Bar Cabinet
Want to keep things conspicuous? How about adding a mini bar cabinet in a teak finish that can also pass off as a legged sideboard? Open the doors to create Bond's signature Vesper (three measures of Gordon's gin, one of vodka, half a measure of Killa Lillet garnished with a slice of lemon peel, in case you asked). And leave them ajar during the day to keep your spirits away from your kids' prying eyes.
Even better, deck it up in time for the holiday cheer with a mini Christmas tree and bright lights.
Wall-mounted Teak Wine Cabinet
Imagine being a wine connoisseur without a cabinet to house your Cabernet Sauvignon! Oh, the blasphemy. If starved for space, go vertical with Woodsworth's Sheesham wood wine rack from which you can choose to hang your favorite wine glasses.
Remember, Woodsworth, not Wordsworth, that chap was a noted poet but a water drinker and stayed in a converted alehouse. Blegh! What a party pooper.
Siramika Traditional Bar Cabinet
Forgive us if you think we have been underestimating your collection. We haven't. So, here's a solid wood cabinet in a honey oak finish that you can use to stock up while adding a traditional touch to your classic décor or for creating a contrast with your minimalist interiors. Just grab a bottle and pour yourself a drink, assuming you know a guy who knows a guy…(if you know, you know).
Segur Solid Wood Bar Cabinet
Ugh! We get it; not everyone has to ring in the Christmas festivities with flashy designs. You could do that simply by adding a very classic, super minimalist oak-finished bar cabinet to your home. After all, cognac tones spice up the atmosphere à la Coyote Ugly style. Add in some pendant lights and blast Bohemian Rhapsody and paint the night red.
Pro tip: Fancy adding a rose gold cocktail shaker to your cabinet's countertop to add some spunk to the jamboree.
Deck Up Your Bar to Get into a Perfect Holiday Mood
Knock knock! It's time to come out of your reverie–can't really blame you for beginning to daydream about your newly-furnished bar room after going through these sophisticated bar cabinet looks and styles.
And if this wasn't enough, head out to Pepperfry's catalog to get your fill of some of the most eloquent designs that match your preferences while raising the oomph levels of your bar room. The best Manhattan in your circle is just a décor upgrade away.