Your home is a reflection of you. But do you know your personality type to know what your dream home should look like?
Allow the ever-popular Myers-Briggs personality test to help you decode your home goals!
This test believes that our personalities sway in tandem with 4 psychological traits – sensation, intuition, feeling and thinking. And thus, we have 16 different personality types based on a person's inclination toward certain choices.
Without further ado, let's take a ride down an MBTI-based home decor inspiration journey based on your MBTI!
ISTJ – Minimalistic
Serious, formal, quiet, and logical, you guys are introverts who are also fans of structure and stability. Your efficient and logical thinking personalities are sure to get drawn towards minimalistic home decor for its simplicity, functionality, and fuss-free comfort.     
INFJ – Eclectic
As an INFJ, you are notorious for seeing the world through a completely different lens. Your quaint, kitsch sense of aesthetics and love for all things creative make you the perfect candidate for an eclectic home decor that screams spellbinding, unique and statement pieces of decor, just like you!
INTJ – Mid-century modern
You, dear introvert, are not only a strategic planner but you also love unravelling patterns and reading between the lines. You are a true mastermind! This makes the mid-century modern aesthetic the perfect vibe for you. Just like you, your mid-century modern home offers more than what meets the eye. At first glance, it will look straightforward, retro, and simple. But delve deeper and you notice the rich, subtle exuberance and the diversity the decor has to offer!
ENFJ – Modern Farmhouse
A giver in the true sense, your ENFJ personality thrives on pleasing people. Your intuition, empathy and pleasant attitude entice people toward you and make them comfortable enough to open up to you. And isn't that what a modern farmhouse is, too? Built on the foundations of warmth, comfort, and relaxation, its minimal, Scandinavian yet cozy ambience is inviting, relaxing and oh so friendly.
ISTP – French Country
You, my friend, are a paradox. Your mysterious personality is a contradictory mix of rational and logical, and abstract and creative. Clearly, a French Country aesthetic – with its hybrid mix of antique French, shabby chic and farmhouse interiors interspersed with minimalistic pieces full of grown-up allure – is the perfect mood setting for your home with its well-judged mix of juxtapositions.
ESFJ – Traditional
Your true-blue extroverted nature is comforting and familiar. You are the mood-lifters, the shoulder to cry on, and the vibe setters. Loved by one and all, you are one of those classics that no one can ever tire of. A traditional home decor theme makes the perfect match for your classic, welcoming personality. Your house is warm, inviting, and full of life; quite like you.
INFP – Asian Zen
Quiet and reserved, you are the type of personality who loves spending time alone with yourself. You love your space to be calming and fuss-free so you can process your thoughts and feelings in peace, without any distractions. Doesn't an Asian Zen-themed decor – with its pared down, minimalistic approach that is still uniquely layered enough to add some depth and character to its aesthetic – feel like the perfect choice for you, then?
ESFP – Hollywood Regency
Drama is your middle name! You love the spotlight, and all things glam and luxe. You are a true-blue entertainer, spontaneous in your approach and oh so artistic. A personality as dramatic as yours deserves a home full of Hollywood Regency. Timeless and fun, Hollywood Regency blends art deco with high-polished glam that boasts of modern and upbeat energy. You will fit right in there!
ENFP – Art Deco
You, dear ENFP, refuse to live inside a box. And why should you when you were born to stand out? Your individualism, expressiveness, creativity, and imagination are unmatched as your home should be, too. No prizes for guessing that the Art Deco theme will be a perfect fit for your dream home. Just like you, Art Deco interiors are opulent, elegant, glamorous and the epitome of chic.
ESTP – Industrial
Adventure risk-taking, spontaneous, and abstract are just some adjectives that perfectly describe your ESTP personality type. You love living a grunge life and are not afraid of imperfections and mistakes. Therefore an Industrial home decor aesthetic fits perfectly into your mood board. The raw, steampunk feel of reclaimed machinery, woody textures and unfinished metals are the perfect complements to your outdoorsy and edgy personality!
ESTJ – Urban Modern
The just and most socially conscious of the lot, you are practical, sustainable and detail oriented. You constantly crave stability and order and are always chasing the 'right' way to do things! The Urban Modern interior theme perfectly suits your personality. The timeless, modern yet contemporary vibe of an Urban Modern home with sustainable influences and a statement-making persona is the most obvious way to go for you!
ISFP – Shabby Chic
You are caring. You are warm. You are so much fun to be with. You love to explore new things and are always excited for new experiences. A dull day is not part of your dictionary. You do not mind getting rough for something like a trek but boy, can you clean up well for a fancy night out with your special someone. A personality like yours screams Shabby Chic home decor! Because you appreciate works of art, it is only natural to turn your home into a piece of art itself. Your appreciation for timeless, femme, vintage and antique-inspired appeal is quite evident in a Shabby Chic decor!
ENTJ – Contemporary
The two words that describe you the best are 'rational' and 'logical'. You are a great decision-maker which makes you naturally born leaders. Quite like you, a contemporary home says modern but with a sense of individualism and smart decisions that sets it apart. Your aesthetic does not conform to a set standard but molds a benchmark to fit your vibe!
INTP – Bohemian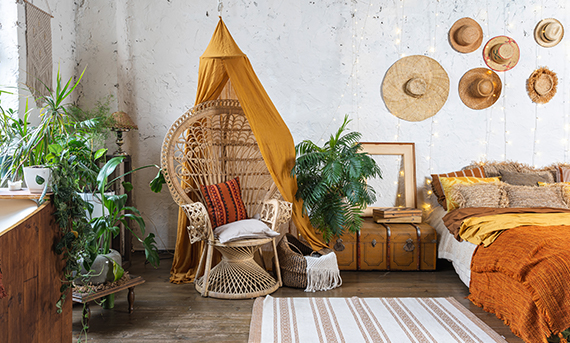 Creative genius – nothing describes your INTP personality better! Your head is filled with brilliant, out-of-the-box ideas and you find inspiration in anything and everything in your environment. Your flexible and imaginative vibe screams Bohemian aesthetics! A mix of exotic finds, vintage and antique furnishings picked from every corner of the world and eclectic decor that you could be creative enough to experiment with, your perfect bohemian home is a Pinterest-worthy piece of art!
ISFJ – Modern Country
The warm, nurturing nature of your ISFJ personality focuses on bringing out the best in others. You are aware of people's needs and choices and you love to nurture their wishes. This makes you extremely considerate and detail oriented. So, when it comes to your space, the Modern Country vibe makes the most sense. Just like you, this home decor is more rugged and organic in its nature to adapt to everyone's comfort and personal preferences. To describe it best, the aesthetic is elevated yet easy-going and natural!
ENTP – Rustic
Your no-nonsense personality has its own charm. You are rational yet intuitive, you are logical yet always open to exploring new avenues and you thrive in environments where creativity meets challenge. Your outdoorsy and rugged personality reminds us of Rustic home decor that focuses on modernizing natural furnishings to give a rugged space an unexpectedly sophisticated aura.
Now that we've decoded the perfect dream home for each personality type, we'll leave you to your devices to start prepping for a grand home makeover!