Every home's heart is in the kitchen. It is where we prepare food, dine, mingle, and host visitors. Additionally, it's where we get together as a family to spend time together (maybe also get into some heated arguments, but who's counting?). You need to choose a function from among the many that the kitchen can serve that satisfies all of your needs and demands.
Selecting the ideal kitchen countertop can be difficult. Check out some of the top kitchen countertop materials below to help you choose the best option for your space before burning a hole in your pocket on such a significant change, which is frequently one of the most expensive parts of a kitchen remodel. It's crucial to consider factors other than popularity and cost when choosing the ideal surface for your kitchen counter. Let's dive in!
7 Countertop Options to Help Transform Your Kitchen
1. Granite Countertops
One of the earliest materials utilized for kitchen countertops is granite. Granite is stained to give it many hues and textures, ranging from deep browns to white with black or red veining (making your 'heart go on'). Due to its longevity, granite is less likely to chip than other varieties of stone like marble or quartzite, which is why some people like it (seriously, who wouldn't?). The contemporary kitchen platform granite style complements the modular kitchen concept beautifully.
Granite is quite hard. In terms of the utilization of natural resources, it is only surpassed by diamonds. It will be the last countertop you ever need if applied properly. If you decide to replace it in the future, you'll be doing it voluntarily rather than out of necessity. It is resistant to cracking, chipping, and scratches. Granite counters are resistant to heat due to their toughness. Depending on the extent of the damage, granite is a reasonably simple material to repair if you do manage to chip or crack it. Even while it's not advised, if you do it periodically, a hot pan or tray won't harm the countertop the way laminate, wood, and other softer materials would.
2. Quartz Engineered Stone Kitchen Countertops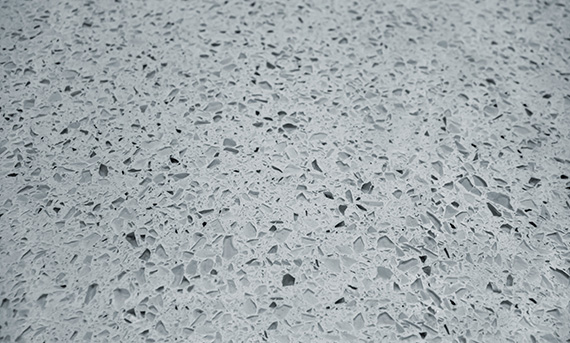 Quartz countertops are a good pick for kitchen counters and are frequently thought of as an alternative to granite. Quartz is one of the world's hardest materials and is more resilient and long-lasting than granite, making it a good option for a kitchen countertop.
Due to the fact that quartz countertops are created, there are countless color and pattern options, including types that are nearly equivalent to granite or marble (if you just squealed reading this, don't worry, we did too!). The fact that quartz surfaces are heat- and stain-resistant, and thus simple to maintain may be one of their greatest advantages. Quartz is very resistant to mold and bacterial contamination due to its non-porous nature.
Quartz can be more environmentally friendly than granite because it is designed, provided that you utilize locally produced stone and local fabricators. As a result, less material needs to be delivered over distance. Actually, quartz is more durable and harder than granite. Since quartz isn't porous like granite, it's simple to keep your countertops largely bacterial-free. In fact, quartz is practically indestructible. Use heating pads at all times when using cooking pans since excessive heat (something akin to Gordon Ramsay's temper) can harm quartz.
3. Marble Countertop
The gorgeous hues and textures of marble include beige, milky white, black, and slate gray. For a seamless and uniform appearance throughout the kitchen, think about using a gray-toned marble countertop in a space with white cabinets and a white subway-tile backsplash.
Since marble can be expensive, you might want to think about a less expensive option, such as Carrara marble. This marble not only resembles its more expensive sibling but also may hide unsightly chips and stains that are typical of classic marble due to its softness (#siblinggoals).
Natural stone countertops, like marble, should be cleaned with a moderate liquid detergent and water. Additionally, marble should be sealed yearly. A high-maintenance marble countertop might not be the greatest choice for your kitchen surface if it sees frequent use and is used for food preparation (but if you just want to sit there and look pretty, then why not?). However, bakers who prefer a chilly surface for rolling out bread and cookie dough have found that marble surfaces are useful, so if you are into baking, this would be the ideal countertop design for you.
4. Glass Countertops
A glass surface makes a strong impression in every space, including the kitchen, thanks to its translucent attractiveness. Glass countertops come in a range of textures and hues, much to the surprise of many people. Many surfaces have materials that enable the mixing of browns, blues, greens, and other colors that go well with the color scheme of your kitchen.
Glass recycled from old countertops is used in other ones. Utilizing a combination of coloured glass pieces, recycled glass may be fashioned to resemble granite countertops in addition to being an environmentally beneficial option. Depending on the material that would best suit your kitchen space, recycled glass countertops are available in tiles, concrete, and resin. If you want to give your current countertop a little flair by doing it yourself, glass countertop tiles are an excellent alternative.
No matter which glass countertop you select, installation costs can be high. Instead of installing a glass countertop all throughout the kitchen, if cost is an issue, think about using it as an accent with another surface.
5. Laminates Countertops
Layers of plastic, paper, or wood fibers are bound together under pressure and heat to create laminate countertops. After that, a layer of melamine resin is applied to give these layers a smooth surface and further protect it from stains and scratches. In the event that laminate countertops are damaged, repairs are very simple. Instead of swapping out a complete slab for something else, like granite or marble, you only need to change a tiny portion. The primary benefit of laminate countertops is that they are more affordable than other materials while still offering comparable durability and performance!
Maintaining laminates' aesthetic and protective qualities doesn't take much work. Laminate countertops may be kept clean by simply wiping them down with a moist cloth. This offers a hassle-free experience and eliminates the need for regular, time-consuming surface renewal and cleaning procedures. For kitchen countertops, laminates are preferred over other materials that may be vulnerable to scratches and blemishes because of their tough stain and scratch resistance. Due to their frequent use, they are also resistant to the effects of dampness and wear and tear.
6. Concrete Countertops
Unlike stainless steel, laminate, or other synthetic worktops, concrete can be fashioned with an "organic," natural feel and a down-to-earth quality. Handmade concrete countertops are available. The countertop can integrate practically any color if you know how to tint concrete. You can also apply textures and even patterned imprints like flower patterns.
Additionally, you can inlay stones, shells, and other decorative elements into concrete countertops if that appeals to you. These countertops are also quite environmentally friendly, making them a desirable option for those concerned with these matters. Even recycled glass, wood chips, and other materials from previous uses can be used to create concrete worktops.
Concrete countertops only need to be waxed and sealed once a year for maintenance (unlike Monica, this countertop is very low-maintenance. Hope Chandler heard it!). Lemon juice, wine, ketchup, and other dye-rich foods and beverages can stain concrete countertops, so be careful to clean up spills right once to prevent discoloration.
7. Wooden Countertops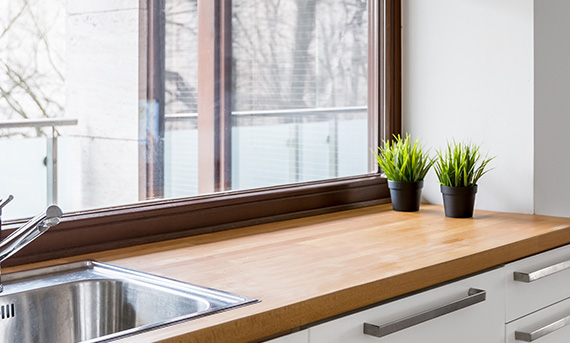 Countertops made of wood can be both stylish and practical. For food preparation, practical ones like a butcher block are great (brain, please stop replaying that scene from Vikings where they use the butcher block for unsavory activities). Installing decorative countertops can give a room a more opulent appearance. Once sealed, wood surfaces are hygienic for slicing meat and can easily accommodate the placement of hot pots and pans on the surface.
Oak, walnut, maple, and cherry are just a few of the several types of lumber that may be used to create wood countertops. For a distinctive surface, think about staining your countertop with food-safe blue, green, red, and yellow stains.
A gorgeous countertop material option for the kitchen is teak wood. It has an alluring charm in addition to being strong and water resistant. Reclaimed wood, on the other hand, is a top choice for accenting a kitchen design that is country-inspired. Mineral oil should be used monthly on wood countertops to clean it. Sanding can remove stains, but remember to re-oil the area to save the surface. Once sealed, wood surfaces are hygienic for slicing meat and can easily accommodate the placement of hot pots and pans on the surface.
There are countless options, thanks to the wide variety of wood species and colorations. Choose from light or dark wood, and experiment with the thickness of your wood countertop to completely alter the appearance of the kitchen.
The kitchen's countertops set the tone, so pick materials and a design that not only expresses your personal taste but also takes into account how you want to use the space. There are many different materials available for countertops, so it's important to choose one that fits your needs. When it comes to choosing a kitchen countertop, the best materials are those that are durable and easy to clean. Don't forget to check out Pepperfry, which has all the countertops you're looking for (and more!).