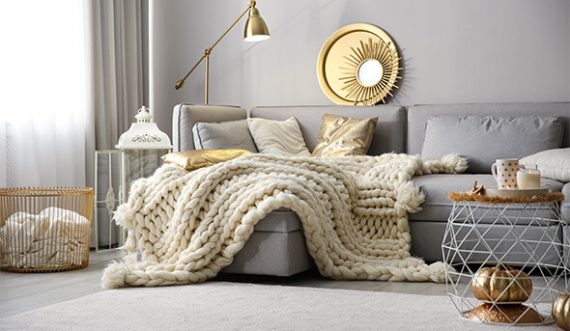 It's Hot Cocoa season again! No matter which corner you are in–be it down south with cool evenings, the much cooler plains with near-zero temperatures, or the snowy hilly areas, winters are finally here, and oh girl, it is cold! 
 With winters serving as the perfect excuse for snuggling in your blankets with piping-hot coffee mugs–yes, even on workdays (work from the office, says who?), it makes fervent sense to deck up your place in some winter home decor that sparks warmth and comfort. 
 So, how can you cozy up your home decor for January in time for the temperature drop? Pretty simple, just incorporate The Great British Baking Show-inspired cocoa cart. After all, cocoa makes everything a million times better. 
8 Stellar Winter Decor Ideas For a Snug Home
Ok, we are done being cheeky. The golden rule to any cozy winter home decor is to layer up! This means adding richly-hued drapes, knitted cushions, velvety carpets, and fairy lights, and voila, you are sorted till spring.  
 But how can you incorporate winter home decor ideas in your heavenly abode while keeping things chic and enchanting? Let's go! 
 Rug Up
If you, like us, have been constantly thinking about Jon Snow's furry cloaks, then how about adding them to your floor to warm up your chilly toes? A faux hide, furry carpet, or sheepskin can instantly bring warmth to any room while giving your minimalist living den a regal touch. 
 Fun fact- Nights Watch really did wear carpets as capes! So, in case you ever get bored of your rugs, just cut and shape them, add leather straps, and put them on as a heavy pelt. –we jest (maybe). 
Hibernate in Bed Linens
May the warmth be with you with oh-so-comfy thermal blankets, but why stop there? Layer up your bed in cozy winter home decor with lush velvet throws and soft fur cushions and pillows. Sounds like a glorious place to snuggle up with your partner while getting done with some Shakespeare reading. Here's a head start, "How like a winter hath my absence been, From thee, the pleasure of the fleeting year!" 
Keep Thy Derriere Warm
A nonpareil winter home decor idea to enhance your home's ambiance is to add a leather armchair or a velvety sofa, a la the Ghostbusters headquarters style–even better, with a fireplace. Drape them in warm tones of forest green or burgundy for added softness and comfort. You can also use rustic accents like wool blankets or sheepskin pelts over dining chairs for extra warmth. 
Light It Up to Brighten Up
Let's face it; sunlight becomes a prized commodity, particularly during the mid-winter season–after all, there is so little of it, which, in turn, can make homes look gloomier. So, a way to add some spirit to your home decor for January is to illuminate dark corners with floor lamps or light fixtures.  
 Pendant lights, wall sconces, or even reflective mirrors are a brilliant way to keep the atmosphere cheery all throughout the winter. And if you are still reeling from the latest Stranger Things season, deck up your space in the show's signature green and red fairy lights, spelling out your favorite quote in retro. 
 Liven Up Your Home with Greens
It's almost funny how the plant trend fits in every season, but even more so during winters, when the outside world is so dark, drab, and bleak. Unless you are a fan of the Revenant, then please feel free to add a rugged touch by incorporating pinecones and bare branches into your winter home decor.  
 But if you've been rewatching and getting inspired from Avatar (you know to prepare for Avatar 2), potted plants, sculptural fig leaves, and ferns are the way to go–the more exotic, the livelier. 
Cushion Color Pop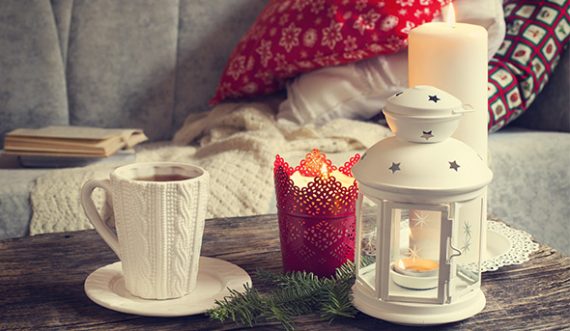 Think winter blues and grays are cliches? Well, we are with you! Add a dash of color (Viva Magenta, 2023's Pantone color sounds good) to your winter home decor with bold-patterned cushions that will surely outlast the cold. Oooh, ain't that savvy? 
 You can even give wings to the child in you by infusing your cozy winter home decor with Harry Potter-themed colors: valiant red and gold (Gryffindor) or sleek green and silver (Slytherin)…you get the drift. 
 Silver White Winter Decor
If your kids continue to be enchanted by Frozen, you know you need to add some snowy, silvery, and frosty decorations to your winter home decor, right? Right! So, time to bring out all things white or silver, or even mercury cup holders for white candlesticks.  
 Create a statement centerpiece for your dining table with white plates, white candles, some berries sprigs, and twigs. Drape your mantel and windows with white string lights–you know, your kids will love you for it! 
Smells Like Winter
Fragrances fall under the ambit of some of the most underrated winter home decor ideas. Hot cocoa is all good and dandy but imagine imbuing your space with the sweet smell of cinnamon or a hot potpourri of pinecones and evergreen leaves displayed casually on the mantel or coffee table. Sounds divine, just like jazz music. 
Design Your Own Warm Winter-y-land with Pepperfry
We know it's cold but get off your couch; oh no, wait; in fact, settle in even further and explore Pepperfry's colossal catalog of bed linens, drapes, furniture, and plants to design your ideal hibernating abode. The outside may be dark and lifeless, but your winter home decor doesn't have to be!