A house becomes a home when your soul vibes and finds comfort in it. Even the snazziest of home decor designs can leave you feeling drained if they are not welcoming enough. It's something that can happen only when the aesthetics of your home appeal to your senses.
With its naturally eclectic presence and versatility, Rattan furniture is now in vogue for the value it brings to the interiors of your home. It is durable and can be used with furniture crafted from other materials with seamless ease. With its organic texture and earthy appeal, Rattan fills the void in the decoration ideas for homes left by over-exposed wooden and metallic furniture that are expensive and space-consuming.
What is Rattan?

Your food tastes better if you know what has gone into making it. It is the same for furniture. As Rattan is back in trend, let us try and understand what this crafting material really is.
Rattan is not wood. It is not bamboo. Rattan is a naturally growing vine member of the palm family and sometimes appears as a shrub. More than 600 variants of Rattan supply us with non-wood timber for furniture and decor items. Rattan is closer to canes, but they are not hollow, unlike bamboo. Rattan fibre is processed to give a warp and weft weave style made famous by wicker furniture. Rattan fibre is abundant in south-east Asia and is considered a valuable non-timber raw material. It is also found in parts of Africa and Australia.
People often confuse Rattan with wicker. While the former is a crafting material, the latter is a weave style. Even furniture retailers fail to make this vital distinction while labelling their products. Rattan is believed to have its origin in the Malay word Rotan, which was used to describe the uncontrolled growth of these tropical vines.
Why Rattan furniture?
Of late, the market is swamped by synthetic rattan canes and fibres, which are equally durable and suitable for all-weather home decor designs. But the quality and finish of the synthetic Rattan can vary greatly. So, it is advisable to opt for outlets like Pepperfry that are trusted for delivering quality goods. Let us now get down to the exciting part. What styles should you consider when choosing Rattan as a raw material for decorating your home? In one word: endless! Let's find some that will make you want more rattan decoration ideas for your home.
Rattan's seamless blend into storage units makes it a valuable hit for small spaces. With Rattan, you can let your imagination run wild and find an unparalleled range of home decor ideas. The vintage appeal of an Ottoman-style rattan footstool can charm you as readily as the relaxed openness of a hive wardrobe in a coastal design. Do you have unique decoration ideas for your home? With Rattan, it is possible to make them come true!
You can have your ceiling decorated with a Rattan lamp to light up your living room. Style up your bedroom with a minimalist finish of a rattan bedside table, or go for a textured look with a bedhead made out of rattan cane that comforts you. Top it up with an earthy appeal of terracotta furnishing, and you got yourself a sunny countryside decor. If you want to explore more rattan home decor designs, log on to the Pepperfry site. You will be awash with options your ideas will take to, as fish does to water. Mix and match decor items for your living space. Get a customised Rattan look for your bedroom, or design the patio that soaks in the warmth of the morning sun. So, what are you waiting for? Hop in!
6 must-have Rattan styles in your home
Rattan offers an exhaustive range of styles and options to choose from. Rattan, as a furnishing material, is like water. It adapts well with other wood, glass, bamboo, and wrought iron materials. This versatility gives it an edge over conventional furniture crafted from wood or metal. You can give your bedroom an all-out rattan makeover or introduce the seamlessly neutral material to highlight a look that can vary from the vintage rich to a minimalistic bordering on the modern. Here are the six styles you can binge on when flooded with home decor ideas for a long-pending makeover.
Country look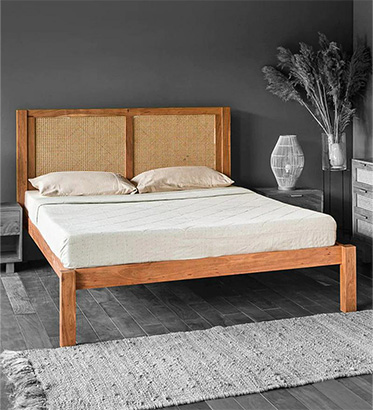 They say God made the country, and man made the town. Bring out the heavenly calm of the countryside with Rattan decor. Rattan furniture is a natural accessory for imbibing the rustic tone of your interiors. Switch to the ambient appeal of rustic decor with the Kyoto queen-sized bed. It is relaxing and lends an immersive, eclectic experience to your master bedroom interior design. Use the soft palettes of pastel fabrics on the upholstery to accentuate the earthy verve of your interior design ideas for the bedroom.
Replicate the wild appeal of a hunting lodge by pairing Rattan chairs with a centre table in forest wood finish. The solid wood centre table completes the picture of an idyllic living room with the eloquence of the Kangaroo chair in a wicker look. Pendant lamps made from Rattan cane will amplify the vibes of a getaway home.
The countryside is where you set your mind free and welcome nature into your house. With Rattan furniture, you can redo your house with great home decor ideas at an affordable price. Rattan furniture goes well with white walls and light earthen hues. Terracotta and bamboo accessories can amplify the home decor ideas for your living room and patio.
Minimalist setup

If minimalism dictates your choices in your dressing and everyday living, then go for the textured appeal of a Rattan finish. Minimalism draws attention to neatness and symmetry. Rattan furnishing and accessories can highlight your elegant ideas in home decor design when less is more.
There are several ways you can put your home decor ideas for the living room into practice. The cane-end table in Rattan finish is a piece of valuable furniture that works as a delightful accessory to your living room decor and doubles up as a storage box for your knick-knacks. You can do away with the clutter in your living room with Rattan furniture that performs the function of a storage box or a small rack for keeping items you need within reach but out of sight.
A finely-designed chest of drawers offers a stunning mix of minimalism and practical furniture that can spruce up the sophisticated ambiance of your home. It can bring a contemporary charm to your master bedroom interior design in a wicker weave. A chest of drawers is essentially used for storing personal belongings and everyday use. A rattan tray that holds scented candles or a Bonsai placed on it can add to the timeless appeal of a minimalist setting.
Mid-century style
Rattan furniture is a tribute to mid-century modernism. It takes the retro fashion and gives it a shot of adrenaline to create a style that breathes eloquence without looking outdated. You can mix and match Rattan furniture and accessories to bring back the era of nostalgia in an array of trending indoor decors.
The Rattan basket cane cabinet, with its earthy appeal and textured finish, is an excellent way of bringing the mid-century vibe to your interiors. Contrasting backgrounds in shades of white, pearl, and ivory, in particular, will accentuate the mid-century flavours.
Industrial designs and metallic frames blend well with rattan craftsmanship to ease you into a retro decor. The throwback to the 1950s is championed by this classy-looking end table in black finish. It is made from naturally-sourced Rattan canes for a retro-inspired look. The end table can be used to accessorise the centre table and bring alive your home decor ideas for the living room. If you want to take the retro feel up a notch, rattan ottomans will elevate your style with their vintage appeal
Coastal interiors
If you like the relaxed appeal of a sun-bathed ambiance, then look no further—step inside the lived-in appeal of casual comfort that defines the outdoors in a coastal home. Rattan cane and fabrics seam well with the hard-weathering look of coastal towns. Let your living room bathe in a sun-kissed earthy splendour with this magnificently crafted armchair in American walnut finish.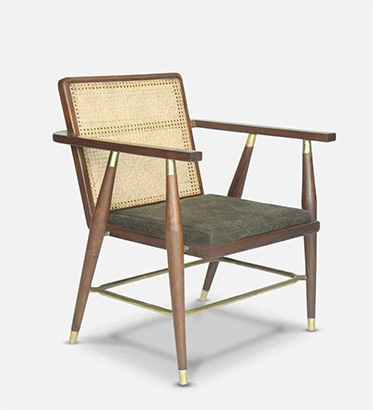 A coastal setup is incomplete without an all-weather patio or garden furniture. The durability of Rattan furniture makes them a must for coastal home decor ideas. An organic appeal about them brings an earthy resonance to your home and its surroundings. Rattan fibre can be repurposed to fit the indoor decor as and when required. Add rattan wicker baskets in the kitchen and bedrooms to put the elemental pieces together into the breezy setup.
Modern lounge style
Ease your guests into the Rattan ambiance of your residence with the modern yet classy appeal of the lounge. When integrated with other materials, Rattan fibre and cane can offer an unmatched contemporary style. This coffee table flaunts the modern silhouette of the Rattan cane finish. Its neutral tones bring a sunny disposition to your home decor ideas for the living room. The colours feel light, the air is welcoming, and the home is comforting.
The luxe appeal of modern living combined with the contrasting finish in woodwork is evident in the Cavalry chair with Rattan backrest. Place it over this beige Sisal in a tiger-eye weave to recreate the lounge in a modern avatar. Glass and metallic finish accentuate the contemporary home decor ideas. Balance the organic notes of rattan fibre with the new-age design symphony by including this classy Rattan table with glass top in your living room.
You can mix your modern aesthetics with minimalist trends. The Jasper console table conserves space, resetting your bedroom or the living room in an acquired neatness of minimalist design. Ease your friends into your house by teaming rattan lounges and end tables with corner sofa sets to create an unforgettable weekend experience.
Classic Boho look
The carefree wanderer in you will fall in love with rattan furniture. You can optimise the spaciousness of your house with the elemental touch of rattan decor. From a complete revamp that includes the kitchen to a mix-and-match style for couples who like to go for slow decoration, rattan craftsmanship will bring your individuality to your home with its fuss-free uber presence.
Why stop at the earthy colours? When it comes to the bohemian look, you can seek inspiration in the natural colours and have your rattan furniture painted in vibrant notes of nature. Fancy your living room as a gypsy lounge decked in colours with a dash of modernity? Pair full-bodied rattan chairs with Glass or concrete top centre table to bring alive your home decor ideas for the living room. Add a life of indoor greenery for a chic uplift of your living room decor. The Plastic flower planter in Rattan finish is an inspired subtlety that is refreshingly unique and fills you with joy. Versatile combinations allow you to use the planter as a floor unit or suspended from the ceiling. Alternatively, you can opt for the minimalist boho feel with the patio set in wicker style. 
Shop for rattan furniture on Pepperfry. Choose from a temptingly wide range of decoration ideas for home. Bring back the unforgettable look of the yesteryears filled with the nostalgic appeal of the 50s and the 60s. Whether it is the cavalier setup of an incredible bohemian patio or a coastal interior, vintage ottomans, or a modern lounge, the comforting indulgence of a tastefully done interior will soothe your earthy spirit and make you feel at home.