The festival of colors is just a few weeks away. And if you don't want to turn this festive season into yet-another-Holi, surely you can do better than preparing a handy stack of water balloons with your old and rusted pichkari (that pumps more water backward than forwards) and playing Rang Barse on a loop!  
Well, no offense against Mr. Bachchan's voice or the rusted pichkari… but how about transforming your entire home decor to match the vibe and colors of this beautiful festival?  
Sounds incredible, doesn't it? Just imagine when it happens. That's because we, here at Pepperfry, are notorious for making people ramp up their home style quotient with ideas that make everyone bounce up from their seats and start decorating!
7 Holi Decoration Ideas at Home For The Ultimate Buzzfest
So here we go. Follow this amazing home decoration for Holi ideas, and your guests will have a hard time picking their jaws from the floor when they enter your house. Or at least, they will take enough time for you to pepper them with your water balloons anyways! 
The Perfect Holi Lawn Decoration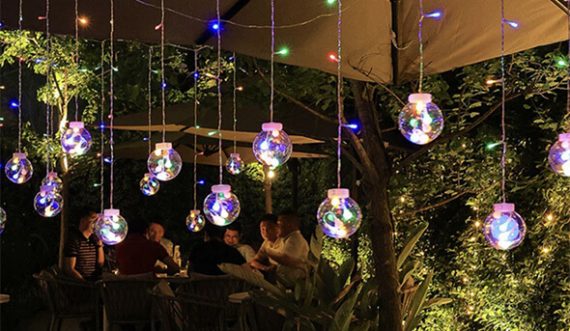 Holi is all about being outdoors and letting your inner child come out to the open and run ragged. Plus, it's also an opportunity for you to channel your inner Akshay Kumar bouncing on Let's Play Holi in the background. So if you are even remotely thinking about holi decoration at home, you better start with this one. 
Put lots of white and lots of colors in your lawns and patios with accessories like string lights, gulal buckets, and flower pots. Add some seats and a colorful canopy to protect yourself from the sun (since SPF 15s may not quite stand the force of brutal water guns), and you get yourself the perfect outdoor Holi setting! 
Make Your Living Room Come Alive With Colors 
Now that the lawns and patios are done, let's turn our attention to the most crucial part of the house: the living room. Since this is the place the guests are ultimately going to wind up, you need to make sure it does not let down your spectacular outdoors.

Add a colorful vibe to the room with floral wallpapers, wall hangings, cushions, curtains, and oriental motifs and carpets. You can also add a delicate ethnic touch to your decor by using innovative saree curtains. Food for thought, ladies?  
Epic Balcony Ideas
Ever thought that your balcony could be something more than a strategic vantage point from where you launch surprise water-bucket attacks (Holi hai!!!!). Just saying, because that little space could become the showpiece of your Holi home decor this year.

Enter bright and colorful carpets , paper buntings, and flower garlands that transform your balcony. You can even paint the flower pots you already have with radiant colors and get a few more fragrant flowers to create a more cheerful look.  
Designer Rangoli for Your Home Entrance 
All modern trends aside, isn't there something magnificent about the richness of Holi customs and traditions? When Coldplay and Beyonce can not resist making a song about our celebrations, we know we are doing something right!

Just like the custom of drawing beautiful rangolis on festivals. Except that, you can always turn things up a notch and mix a variety of floor patterns, and a rainbow of colors, and even throw in a few funky candles to create a designer Rangoli that is bound to turn heads! 
Multi-Hued Lights 
The amazing Holi vibe of your place does not need to go down with the sun anymore! If you want to make sure your house keeps radiating with energy (literally speaking) even during evenings, festive lights and lanterns are the way to go.

Their magical incandescence will match the auspicious aura of a festive evening after a morning well-spent chasing people with color sprays and ending up worse than the Rajpal Yadav – Bhool Bhulaiya meme. Plus the best part: these lights will come in handy not just next Holi but almost every festival that falls in between! 
Add Colorful Flair to the Walls 
If your walls are blank and dull (only to be used for staring and contemplating what went wrong at last night's party), you're already committing the gravest sin in home aesthetics. But if you're not planning to change your walls even this Holi season, well, things might just go beyond forgiveness!

There are a multitude of ideas to brighten up your dull walls, such as colorful wallpapers, creative patterns, and wall art. You can add an ethnic touch to your decor by using cultural symbols and eye-catching hand-painted items on the walls. 
Bring the Colors Back to Your Study With Holi Home Decor 
Granted that the Holi decoration ideas at home center mostly around outdoor spaces, but you can still bring the Happy Holi feeling to other parts of your house, like the study.

In fact, for those who do not quite approve of high-octane Holi action, such as Sholay's Thakur with a chip on his shoulder (…or maybe not on shoulders in that case) or just Grumpy Grandpa, a colorful yet serene study could be the perfect spot for celebrations!

Use colorful and patterned rugs to change the view of the entire room. Decorating with paper chains and gulal-filled pots are some other great DIY ideas. Complete the entire setup with some classic Holi folk songs on the record (Grandpa approving, of course)!
Celebrate Holi and the Onset of Spring Like Never Before!
With so many mind-blowing ideas, we are delightfully amazed if you have managed to stick around with us instead of frantically filling your to-do lists. But wait, don't good things come to those who wait? Sure they do.
So help yourselves by heading over to the Pepperfry website and explore a catalog of products that will match your vision with our Holi home decoration ideas and have a blockbuster Holi!