No matter how big or small your home is, there's no arguing that a TV unit is one of the most important aspects. After all, the first thing that a person notices when they enter your house is your TV unit.
Like Joey Tribbiani says, "If you don't have a TV, or in this case, a TV unit, what's all your furniture even pointed at?" And speaking of Joey, we all know how invested he was in building his own entertainment unit. Now, if you don't know who Joey is, we are judging you.
We are judging you more if you have ample space and don't own a TV unit. But, if not having enough space is the only reason that's stopping you from getting one, we are here to help you. Here are our best finds in TV units for small spaces that will glam up your living room design while elevating your aesthetic quotient in front of your guests. Moreover, space issues shouldn't bring a pause to your "Netflix and Chill" experience, right?
Make your guests go 'green with envy'
A statement piece in its own right, this dark-green TV cabinet hits all the right spots. With the perfect combination of stylish and minimalistic, it is aesthetic pro max in our books. It is going to be the perfect fit for your space no matter what the room colour is. For instance, you can use it to colour-block a bright wall or brighten up a dull background. It goes with literally everything.  You can further glam it up with gold accents just like in the image. In fact, we have just the right table lamp to go with it.
Scandinavia in your living room
This TV unit takes us right to Scandinavia with its contemporary design and the white-beige colour palette. It's modern, it's minimal and it's the right size. That means, no matter how small of a space you got for your entertainment unit, this is going to be the right fit. Moreover, it has got enough storage for your media consoles, remotes, set-top box, speakers, gaming units and other ugly elements in your house that you want to hide away. Pair it with a tall indoor plant on the side, a few tiny cacti pots on the tabletop and you are good to go.
Check out this plant that we think would go perfectly with this unit
Minimal design, maximal storage
Say you are really tied for more space, so much so that you are wondering if you should go for a storage unit for those hoarded stuff or get a unit for your binge-watch sessions. What if we told you that you can have both? This TV unit should be a no-brainer design for you if you want a hideaway storage cabinet along with a cool and modern TV unit. It has space for all your extra stuff that you don't want your guests to see and enough display shelves to show off your achievements and mementos from different walks of your life. It is also sure to brighten up your space and add a sense of space due to its light colours. And based on your room colour, you can add statement pieces to complement it.
We think this showpiece set might be a lovely addition to this unit
A stylish affair
Incorporating shelves and display units, this TV unit is the perfect style addition to your home if you want to stow away clutter and add a charm to it with just enough space to show off your best collectibles. With this unit, you can also stack your books and folders in a fashionable manner. And if that doesn't entice you enough, look closely and it's got those really cool bronze legs that really do glam up the unit. Moreover, with its subtle colours, it is going to fit right in pretty much any setting. And with its compact design, it's best suited for small spaces.
Add this table clock to elevate its oomph factor
Vintage meets contemporary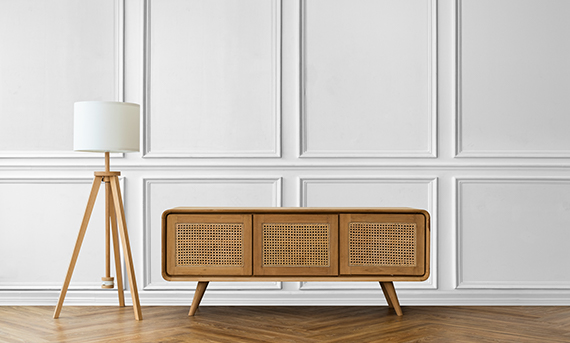 A retro design with a lot of modern elements, this TV unit is just the right fit for your tiny space. It's going to perfectly complement your personality, and your home, if classy yet vintage is the vibe you're looking for. The perfect statement piece for your home, this is definitely going to be a conversation starter when the guests come over. Moreover, with its light woody colour and compact design, it sure will brighten up you wall and add a sense of space. And looks are not its only forte. It's quite functional too. The storage spaces are more than ample for a clutter-free home interior and to tuck away the unnecessaries.
And we have got the perfect floor lamp to go with it to make it look even more chic
Everything out in the open
Open display units, if done wrong, can look cluttered. But, if you do it right, it can be the best accent in your house. A TV unit, a display unit, and a storage unit; this design combines utility with style. It has enough space for just about anything. Be it your huge stack of books, your collectibles from all around the world, a classy table lamp, your speaker set, your air purifier or even your trophies, this unit can hold it all in style. In fact, you'll end up having a lot of fun styling it with all the items that you want to show off with pride.
And to brighten it up further, we have a really cool candle holder that will up its style quotient a notch higher.