You have proudly designed an exquisite interior for your living room, decorated the walls, renovated the workspace, and can't get enough of the 'home selfies' for your Instagram! But before you believe that your house 'seems too complete', just like Jack Durden's condo in Fight Club, think again. Is there something you might be forgetting? Don't worry, nothing wrong with your gas stove (unlike Jack's!) because we are talking about your entire kitchen!
Gone are the days when kitchens used to be boring and traditional dwelling places in the house; a necessary evil, so to speak. With the elegance and style that contemporary modular kitchens offer, alongside their incredible functionality and organization, the kitchen could well become the prime destination in your next house tour for the guests!
Innovative Trends and Design Ideas in Modular Kitchens
When it comes to designing the perfect modular kitchen for your house, much depends on the original dimensions of the place. Having said that, there still remains a lot of scope for creativity, in terms of choosing the right layout as well as picking elements like colors, cabinets, and other inventive designs. Here's a list of everything trending in the world of modular kitchen ideas in 2022 that you can consider for your house.
U-Shaped Modular Kitchen
If you are the kind of person who likes a lot of breathing space while shuffling between beating eggs and preparing color buttermilk for your ultimate Red Velvet Cake, this modern modular kitchen design is for you!
Amazingly popular among large homes and big families, U-shaped kitchens can offer brilliant storage options with three-wall units and lots of free space. This design is also great for those who like having a chat while they are cooking. That means virtually everyone!
L-Shaped Modular Kitchen
Probably the most popular design among the lot, L-shaped kitchens are beautiful to look at without giving you a bonafide headache about the space they demand. With the two arms of the unit alongside adjacent walls, you get a lot of room to move about with zero restrictions in your workflow. You can do the cooking and washing at different ends and also have easy access to the refrigerator.
Stainless Steel Kitchen
If you appreciate minimal hassles with your cooking, in terms of maintenance and umm… after-cooking work (what some may call 'cleaning'), this simple modular kitchen design idea is especially suited for you. Easy to maintain, corrosion-free, and incredibly user-friendly, stainless steel kitchens are also highly durable and eco-friendly.
Parallel Modular Kitchen
These types of kitchens are a special favorite amongst chefs. It consists of two long parallel lines with cabinets for storage and a walkway in between. So if you like to keep things a little professional with your cooking, say, for example, keeping different counters for wet cooking and presentation, a parallel kitchen is going to solve a lot of problems for you.
With easy installation, even in smaller apartments, you can now channel your inner Gordon Ramsay any day of the week!
Matte Theme Kitchen
Highly trending among new-age homeowners, the matte finish on this kitchen design gives it an outstanding class and elegance. Use black, white, or gray color for the counter and match the rest with the living room palette for more appeal.
Island Modular Kitchen
If you like the way The Wire detectives McNulty and Bunk chill out after a long day's work in local hangout spots, you can pretty much recreate the same feeling with this modular kitchen design for small kitchens!
The island modular kitchen design allows for a counter space inside the kitchen area, with various designs available according to your needs and budget. While you can use the area as a small dining nook, it is also excellent for food preparations and installing storage cabinets without hindering the cooking space.
Peninsular Modular Kitchen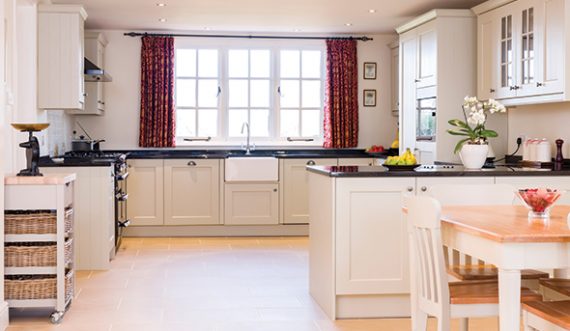 Similar to island kitchens, this particular design only differs in terms of the position of the island, which is neither away nor inside the kitchen, but floats on the periphery. You can install the counter with a sink and even use it for dining permanently. This is an excellent small modular kitchen design, since according to the space and requirements, you can also get creative with the shape of the island! Tahiti, anyone?
Tropical Kitchen
If you can't get enough of nature, then tropical modular kitchens can create the right ambiance for your cooking space. With this design, you might feel like you're literally cooking outdoors (but with a lot more cooking options than Bear Grylls in Man vs Wild)!
With tropical plants, lots of wood, and traditional design, this modular kitchen type is a typical favorite among beach homes and vacation homes.
Grab Innovative Modular Kitchen Designs for Your House Today
Modular kitchens have become increasingly popular among millennial homeowners, not just for the convenience and organization they provide but also for their appealing aesthetics. And if you, too, are impressed with some of the designs mentioned here, all you need to do is check out the Pepperfry website to find your favorite modular kitchen and add some style to your cooking.