The home temple is undoubtedly the most auspicious part of any house. It is also the source of the well-being of the entire family. So, whether you're moving into a new house or renovating an old one, or simply shaking things up a bit, you would probably want to start things off by designing your home mandir first. 
Gone are the days when mandir designs used to be completely traditional, pushed respectfully to one sacred corner of the house where it remained untouched by modern intricacies of design and aesthetics. With this blog, you can explore a range of stunning home temple design ideas that not only create a divine space but are also incredibly beautiful to look at! 
From glass cubicles to marble designs and portable mandirs, we've got it all covered. And, of course, you don't need to own a luxury bungalow to create a classy space for your deities to reside in, either. No matter the size of your house, there is a home temple design idea that perfectly fits your space. 
11 Stunning Mandir Decoration Ideas at Home for a Perfect Pooja Space
Glass Cubical Home Mandir Decoration at Home 
For those who always craved a Bollywood-Esque home atmosphere during their prayers and festivities – you'll have to admit – this one's straight out of all the Karan Johar family sagas!  
The transparent glass enhances the brilliant magnificence of the space, and the wooden frame adds a traditional touch. If your family is highly religious about one particular deity, you can place their idol right at the center and decorate it with a nice backdrop and lights. 
Wall-Mounted Home Temple Design Ideas 
Even if you don't have a separate space in your house for a home temple, you can still achieve a stunning look with a wall-mounted temple design. Wooden frames work amazingly well for this design. Plus, you can also add a few cabinets to the frame and use them for storage.  
Carved Wooden Mandir Decoration Ideas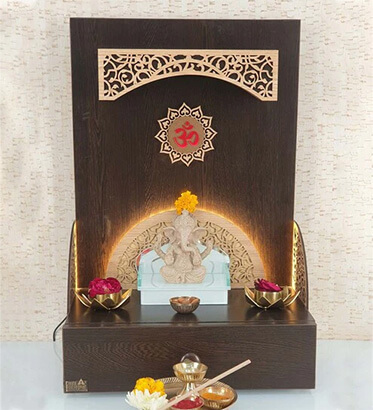 Wooden mandir decoration ideas are perfect for utilizing corner spaces in your house. Install some jali work on the wooden frame and use soft-focus illumination for a spiritual and serene vibe. 
Traditional Pooja Unit 
 Who does not adore the beautiful architecture of Rameswaram temples and their traditional pillars and intricate carvings? Well, you can bring some of that architectural wonder right into your home with this traditional mandir design.  
You can also install some suspended bells and soft-focus lights to match the aura of the space. 
Minimalist Mandir Decoration At Home 
If you like to keep most things simple and sweet, especially when it comes to prayers and rituals, having an exaggerated puja unit can often distract from the real purpose of the space. Simply place your temple against a veneer panel and use lamps, festive lights, and candles to complete the look. 
Granite Home Temple Design 
Well, nothing compares to the Dravidian magnificence of the Brihadeshwara temples, made completely out of granite! And if you're just as awe-struck with them as we are, you can go for a home mandir made of granite that matches the contemporary aesthetics of your home as well.  
Use brass detailing and traditional carvings on the granite slabs and you would never want to get away from your home mandir! 
Vintage Home Temple Design 
Imagine moving into your pooja room and feeling like you just time-traveled all the way back to the Vedic era! Especially if you have a house with lots of space or a courtyard, a vintage design is perfect for the center of bliss of your house.  
Use an accent wall to place your central idol and decorate it with flowers, bells, Diya stands, and ornaments. 
Mandir Decoration Ideas at Home with Backdrop Lights 
Installing better lighting is a great way to elevate any kind of space. And when it comes to mandir design, lights and soft illumination become even more crucial in achieving a spiritual and divine feel to the place.  
Use traditional cutouts like the Om sign or religious chants like Hare Krishna with this design instead of having central idols and statues. 
Home Temple for Small Apartments 
If you want a small and compact space for your home temple, install your mandir on a vertical plane and use shelves to place your shrines and deities. Add a few wooden chest of drawers to store prayer books and prayer essentials and stay minimalistic for an uncluttered look. 
Portable Home Mandir Design 
Speaking of compact designs, a portable unit is an excellent option for small homes and rented accommodations. Place the unit on a cabinet and use the drawers for storing pooja essentials.  
You can go for wooden, marble, or metal options for your unit depending on your taste and availability. 
Innovative Display Units as Home Mandir 
What if you're not that much into religion but still want a spiritual center in your place? In that case, you can use your TV Unit and turn it into a Pooja unit by placing a few idols and other decorative items there.  
This idea is especially helpful if you can only spare a few minutes with your beloved Kanha Ji before running for work! 
Keep Your Mandir Decor Beautiful and Serene Forever!
Of course, you don't stop just after choosing your perfect home mandir design from the ideas mentioned above. Maintain your mandir design with good practices (like cleaning idols and mandir floor) and follow Vastu tips for a peaceful and calm atmosphere.  
Check out the Pepperfry website to find more home decor maintenance tips and various accessories that will help in creating your perfect mandir space.