Who says you can only do something special for your partner on Valentine's Day or their birthday? When you are in love, every day is a celebration. So, how about planning a special date night for your partner, at your love nest?
If you are on board with an indoor date night plan, these small but thoughtful decor suggestions can help you transform your home into the most beautiful date destination for your loved one. 
Breakfast in bed to start the day 
Want to do something nice for your partner on weekends? There is nothing more thoughtful than bringing them breakfast in bed. Wake up a bit early, make their favourite breakfast, and then enjoy the beautiful bed and breakfast moment at home. Make sure you use a portable table to prevent making a mess!
Candle holders for a romantic candlelight dinner
If you wish to have a romantic candlelight dinner at home, then you should definitely bring home some stylish candle holders. No matter what the cuisine is, lighting up a few candles will transform the feel of the date. The right candle holders will set the mood and create the dreamy ambience that you want for a special date night.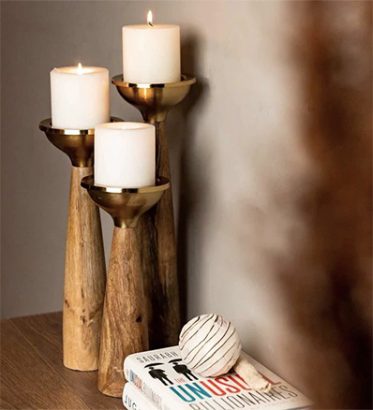 A bar cabinet to keep the drinks and conversation flowing
What's a great date night without some wine or champagne? Whatever your choice of drink is, a great bar cabinet will make sure you get the full restaurant feel. If you and your partner love collecting different types of liquors, then bring it home as soon as possible. This furniture piece will surely be your showstopper for many date nights to come.
A little twinkle for the night 
Every date night needs a little bit of twinkle, especially when it's indoors and it's just you two. Add some sparkle to your home with string lights and enjoy a great night-in filled with cuddles and kisses, under the stars. Surprise your loved one with a well-decorated space as they walk into the home! 
We hope you have all the ideas you wanted to plan a perfect date night in with your partner. For more design and decor ideas, head over to the Pepperfry website.