Do you want to wake up in an energising and mood-boosting bedroom? Believe it or not, the colour of your room can have a lot to do with it. Colours affect your mood more than you can imagine. So it makes sense to put some thought and consideration before finalising your bedroom colour combination.
Whether you want the mood to be bright, cheerful, cosy, relaxing, or dramatic, bedroom paint colours can effectively aid you in it, as you will see in the examples below. So if you are contemplating a bedroom makeover, we have some fantastic colour schemes to inspire you.
Classic Blue and White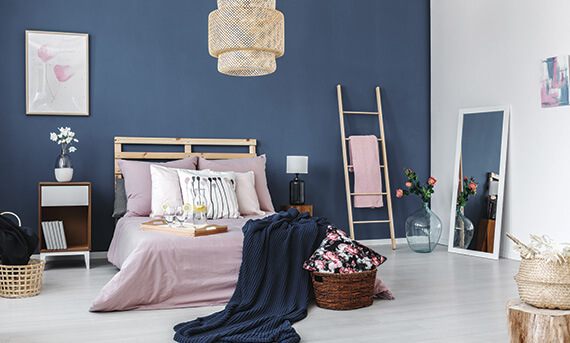 Blue and white are among the most popular wall colour combinations for bedrooms. While many colours go beautifully with blue, none can match the charm of classy white. So fill your walls with classic blue shades and punctuate them with refreshing white accents such as a  white shelf, white pillows, white lights, or wall art.
However, if all blue seems too loud, you can let white take the lead. Opt for a bright white landscape and introduce splashes of blue to your doors, wardrobe  and cabinets. The harmonious blend of blue and white will give you a fresh and timeless combo that can never go outdated.
Shades of Nature Green
Nature green is a soothing and relaxing colour, ideal for a bedroom. Surrounding yourself with green is also known to energise and revitalise you, even if the green comes in the form of wall colours.
Shades of green combine beautifully with one another. So do not hesitate to mix shades of green in your bedroom colour combination to create an energising space. You could also add rich green upholstery, plants, throw and cushions , and illustrious art to replicate nature and art as closely as possible.
Dusky Plum and Purple
When it comes to bedroom paint colours, one cannot go wrong with plum shades. Dusky plum tones give your room a soothing quality, perfect for sitting and relaxing. The tone is deep enough to set a warm and mellow mood but not too intense to become overpowering.
Plum and purple colours are also associated with wealth. Teaming them with matching furniture such as a  purple wing chair and other rich wall accents can give your bedroom the feel of extravagance and opulence. Top it off with purple decor lamps to create your luxurious abode.
Yellow and Grey
We all know yellow brings cheerful brightness to any room. The colour of sunshine and flowers, yellow, definitely brings a lively energy to your living room. The key is to balance the sunny shade with darker hues such as black, brown, or grey.
While yellow and brown are often spotted in the living room, yellow with grey is a rare combination. You can opt for this wall colour combination for the bedroom to create an extraordinary and bold statement. You can further add some black and white colour to your room with a mirror, throw, wall clock,  bench, or a carpet for a well-balanced look.
Peach and Cream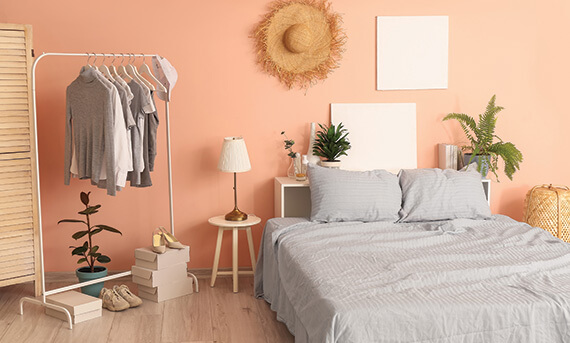 Talking of two colour combinations for bedroom walls, peach and cream, is a beautiful idea. Traditionally considered feminine, peach colour is now increasingly being used by both males and females. The different shades of peach give a comforting, warm vibe to any room, and there's no reason why men should be deprived of the experience.
Try out a slightly darker shade of peach on your bedroom walls and balance it out with a cream ceiling, curtains, dressing table, and other accessories like a mirror,   cushion covers, plant holders and carpet. This subtle bedroom colour combination will refresh and enhance your mood every morning.
Coral Pink and White
Coral pink is a yellowish pink colour lighter than pink but darker than peach. This classy soft red hue was popular in the 70s and has recently made a comeback in interior designs. The soft red hue evokes a joyful and comfortable vibe, making it one of the best bedroom paint colours.
Choosing a coral pink and white bedroom colour combination creates and showcases personal style. You can add elements of white like a bedside table, throws, and lamps to create a beautiful space. Go big and bold by painting each wall with a different shade of coral, and the white elements will balance the room. Coral and white complement each other wonderfully, and combining the two can give you a spectacular bedroom.
Shades of Black and Grey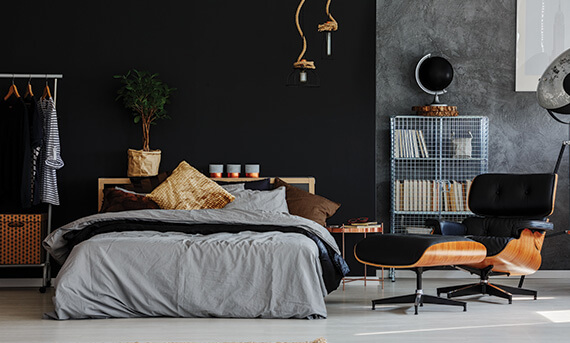 A Black and grey bedroom may not be everyone's tea, but that doesn't mean you should completely rule out the colour combination. The combination exudes elegance that works incredibly well with bedrooms.
Black walls immediately draw attention. They form an excellent backdrop for vibrant and colourful accessories like a gold lamp,  a blue chair  and colourful wall art. On the other hand, grey is a highly versatile colour that works well for interior decor. Apart from creating a variety of moods, you can add the colour via grey bed sheets, curtains, and carpets to add depth and personality to your space.
You can also combine black and white to give your bedroom a sleek and industrial vibe. Top it with cool black and white lamps for a fresh monochrome aesthetic.
Green, Blue, and White
You do not necessarily have to stick with two colour combinations for bedroom walls. Instead, why not expand your palette to add three or more bedroom paint colours. Take green, blue and white, for instance. It's a great bedroom colour combination for a serene and peaceful space. Nature itself is an example of how beautiful the green land and the blue sky look together. 
Include beddings and patterns, a  green study table, and a  white lamp for a more appealing and put-together look. The best part of a tri-colour scheme is that you'll need minimal décor to finish the look.

Summing Up
So these were some innovative wall colour combinations for bedrooms. Of course, you can choose any ideal combination for the kind of mood you want to create for your private room. But along with the bedroom paint colour, the furniture and décor also add to the overall feel of your bedroom.
Pepperfry houses a fantastic collection of furniture and room decor that can add to the colour and charm of your living space. Whether you have a traditional or modern setting, nail your aesthetics will be our stylist's recommended product.