The rise of smartphones and smartwatches has slowly relegated clocks to a thing of the past. So, what does time do for its biggest symbol as it passes? Turn itself into a trendy and decorative showpiece!  
  With horology becoming the new-in trend, wall clocks are back in fashion—although, one could argue that they never really left– and are back in the spotlight with a vengeance. Wall clocks today are trendy, fashionable, and statement décor pieces while still being functional; we are obviously assuming you don't always walk around your house with your phone in your hands. 
  So, how can you incorporate wall clocks in your home décor in a deliberate and artistically-curated manner? Well, we have got some striking wall clock design ideas for you. 
10 Incredible Wall Clock Designs to Spruce Up Your Walls
As with all home décor items, the key to choosing a creative wall clock design lies in scale. While a big wall clock looks great on an open wall, it wouldn't look so hot when it finds company with multiple wall art pieces in a small room.   
  Similarly, some of the best clock decoration ideas advocate against adding large wall clocks in the bedroom. After all, all that ticking will be super annoying when you try to sleep after a long day at work. Or even anxiety-inducing, if you have just finished watching Interstellar. 
  All in all, wall clocks make for a vibrant accessory when added to the living room, gallery walls, and entryways. And now, we will hop on the train that will lead us through the finest wall clock design ideas, making you want to keep track of time. 
1 Elite Gold Analog Wall Clock
Do you know what screams modern yet vintage? It's this gold wall clock from Handicraft Town. Crown it as the focal point of your room to make a style statement full of flare and fashion. 
2 Go Minimalist
Minimalism is in, and metal is precious (my precious!). And voila, you have got a glorious wall clock design idea. Add novelty to your walls by hanging decorative wall clocks that are sleek, contemporary, gold-finished wall clock from Handicraft Town. 
3 Metal Clock With Sun Rays
A creative wall clock design to bring the sun into your living room, without the heat, of course, is to hang this metal decorative clock by Malik Design. Pair it up with abstract wall art, or place it over your favorite table plants, and you are good to go. Or just roar like the Lion King against this backdrop. 
4 Let Butterflies Keep You Company
While this may not be the inspiration behind Owen Warland's creation of a clockwork beauty in Nathaniel Hawthorne's "The Artist of the Beautiful", we are sure this butterfly iron clock could cut short our list of immaculate wall clock design ideas. But we can't stop now, can we? 
5 Color Splash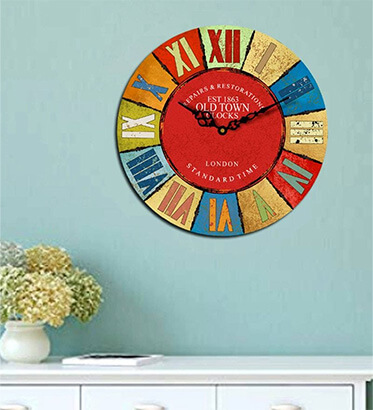 Add a pop of color to your minimalist walls with this printed engineered wood analog wall clock. Or you could go all maximalist by pairing it up with bold, bright hues, notwithstanding all the earthy trends. Whatever you choose to go with, know that your kids will love it when you are narrating Cinderella's plight of having lost her shoe at midnight! Wait, are kids allowed to stay up till midnight? Hmm… 
  6 Go Antique
If you, unlike us, love geometry but are sick of all the round wall clock designs, we get you, minus the love for geometry. (Psst, how can you?) So, the superlative wall clock ideas for your living room should incorporate this antique, laser-cut finished black antique wall. Have fun calculating the circumference of this wall clock, you math maniac! 
 7 Cog on Wall
Feeling inspired after listening to Gilbert's speech about little clogs meshing together and cooperating by design after your The Incredibles rewatch? Then, add a rustic, vintage metal clock to your wall with its sweep mechanism in an all-out display in your kitchen or dining to create a perfect chat point for you to discuss the speech, and more. It may not be the most creative option but modern wall clocks serves as the reigning queen of all wall clock ideas for the living room. 
8 The Musician Lady
Want to keep it traditional while paying homage to Indian art forms? Try traditional wall clocks. Or perhaps, you want to create a sublime reel-worthy background for your rendition of Pasoori? It's time for this metal music lady wall clock to shine. Truly, a magnificent and creative wall clock design! 
9 Have the World on Your Wall
What do Roman numerals and maps have in common? An exquisite and creative wall clock design, of course. Have a look at these gorgeous vintage wall clocks. Bring the world map right to your reading nook when you sit down for your next historical fiction read with Random Isn't-random Roman wall clock. 
 10 Your Own Owl
If you can't stop thinking about the Weasleys' clock, whenever we mention clock decoration ideas, you are not alone. While we can't promise a clock with nine hands, what we can offer is a beautiful wooden, silent-sweep owl clock. Sadly, no owl pets and message deliveries. 
Be Tick-tock on the Clock

With

Pepperfry
Time-telling motifs, aka wall clocks, are a classic home decor piece that can instantly lift your space without drilling a hole in your pocket. So, keep up with the times by shopping for any of our modern, contemporary, round, or irregular wall clocks from Pepperfry. And if you are feeling super inspired by our pick of wall clock design ideas, feel free to create a gallery of wall clocks.