Haven't we all at some time fancied living in Harry Potter's room under the stairs dimly lit with a single bulb? Well, too bad for us, but a single light wouldn't cut it for our bedrooms.
While it is easy to get lost in the maze of bed designs, wall accents, art panels , and linens when decorating your room, you shouldn't let lighting take the back seat. After all, lighting is art, literally!
Fun fact: Caravaggio painted by placing a black paper with a tiny hole over the window.
Anecdotes aside, lighting serves as the mood setter—as any cinematographer would tell you. Whether you walk into a space and instantly feel relaxed, or enter a sterile space ala 2001: A Space Odyssey style and maybe feel anxious, it is largely based on how you have lit your bedroom.
So, what bedroom light design should you follow to get the perfect background for when you are putting on makeup or watching FIFA or just reading before calling it a day? Stop scratching your head because we are here with some modern bedroom lighting ideas that will dazzle you.
6 Shining Bedroom Lighting Ideas to Add Glitter to Your Sleep-Chill Zone
It is easy to set a lamp next to your bed and call it a day. But is it enough? Not really! The best of the best bedroom lighting ideas endorses layering of lights. So, if your primary lighting source
is an overhead light, complement it with accent lighting interspersed throughout the room. Adding study lamp at your vanity or work desk would be the cherry on top!
Or, in case you are faced with a space constraint, then a popular small bedroom lighting idea recommendation would be to ditch the floor lamp and install some idyllic wall sconces or go industrial with pendant lights.
Still unsure about which light fixtures to get and how to make your bedroom's lighting aesthetically pleasing, yet functional? Read on for some spectacular bedroom lighting ideas to create a room that feels at home in Architectural Digest.
1. A Statement Floor Lamp
Before you protest, we get it; floor lamps are a classic bedroom lighting idea. But they are classic for a reason. Just imagine moving the iconic Arco lamp from Iron Man's living room to your bedroom!
The best thing about floor lamps is how they can work both as accent pieces and as task lights when kept next to a chair. If you plan your bedroom light design well, you can easily blend or contrast the floor lamp shade per your design theme.
Like the angular, stylish floor piece in combination with a pendant light, washes the bed in light, without disrupting the room's theme in the photo above
2. Play With Pendants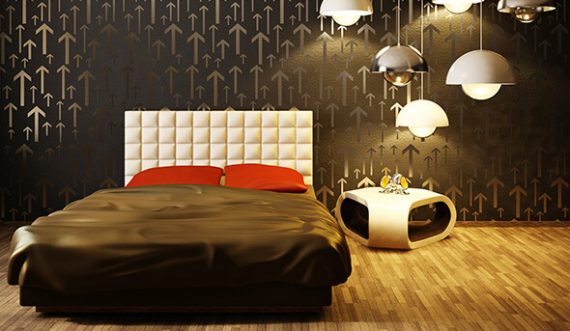 Who says that pendants can only hang in the center of your room? How about switching out your table lamps for low-hanging pendant lights that you can easily turn off in the middle of the night? They look stylish and are a holy grail for those looking for small bedroom lighting ideas.
Or, if you really like putting them in a corner, just get a bunch of pendant lights and focus them on any fixture, as demonstrated in this photo. Beautiful contrast, ain't it?
3. Feel Celestial with LEDs

Take your obsession with Moon to the next level with a budget-friendly LED contour strip. Depending on your mood, you can easily switch colors, for it to at times resemble Star Wars' moons and other times to bring out the werewolf in you.
And if you are the type to get inspiration from TeamLab and want to create similar aesthetic rooms with LED lights? Add neon lights all over the ceiling to create a dramatic, eclectic, and retro effect. Your kids will love it!
4. Chandeliers for Ceilings
Admittedly, having multiple LED lights all over the ceiling might not feature in everyone's list of ideal bedroom lighting ideas. And yet, decorative lighting is any bedroom's jewel.
So, bring your end game by swapping out LEDs and recessed lights with a statement chandelier. It holds the court in your room while complementing other light fixtures, giving your room a royal touch.
And if you are still not convinced, just go back and check out the spectacular Swarovski chandeliers in the Great Gatsby. Trust us; nothing beats a chandelier when it comes to luxurious room lighting ideas.
5. Less-is-More with Wall Sconces
No bedroom is complete without bedside lighting, the workhorse of all lighting fixtures. And when rooms are petite, a better small bedroom lighting idea is to install the very-classic wall sconces.
They serve multiple purposes, from providing reading light to illuminating the bed. Add dimmers to them, and you are all set for a movie night. So, the next time you wake up in the middle of the night because you slept after re-watching the Conjuring, you know what to turn on!
And if you find wall sconces beside your bed super cliché, use them as museum-style spotlights on your favorite art piece.
6. Moody Indirect Lighting
We get it. Not everyone wants bright lights. Sometimes all we want is something dark and broody, and God forbid the ceiling lights were to shine directly into our eyes in those moments. But fret not; we have ample bedroom lighting ideas that aren't as intense and yet speak splendor.
Go for indirect illumination around your bed's headboard and complement it with a single lampshade on the side. You can also experiment with a lampshade on one side and a pendant on the other while accenting your wall pictures.
Flush Your Bedroom in Light with Pepperfry
Feeling inspired after going through our glistening bedroom lighting ideas? Are you ready to turn your bedroom into the holy sanctuary that it's meant to be? After all, it lets you sleep in (despite back-to-back alarms), binge-watch movies over weekends, and provides you with a reading corner.
So, scroll through Pepperfry's catalogue and shop for lights befitting any occasion. From pendant lights to floor lamps to standout chandeliers, we have got them all!
Remember, "In the right light, at the right time, everything is extraordinary." – Aaron Ro