A bedroom is a place of solace for everyone. Every corner of a girl's bedroom has a secret to share and a story to tell. It is the sanctuary of her imaginations and ambitions. Thus, designing a girl's bedroom with precision and creativity is imperative. Today, we will share different girls' bedroom ideas to help you understand how to design the perfect bedroom for your daughter.
Cute Wall Stickers
Every girl deserves the cutest bedroom decor. Like fantasy stories, the bedroom should reflect her personality and everything she likes. You can decorate her bedroom walls with cute wall stickers of animals, birds, cute girls, moon and planets, rainbows, etc. You can try designing a theme from her favourite story or poem. Colourful birds and cage wall stickers would be an excellent idea for girls of all ages.
Nowadays, many kids are fond of many stories like Minions, Dora The Explora, the Marvel movies, etc., you can incorporate stickers from these stories to the wall. These wall stickers can easily colour coordinate the rest of the room, matching the colour of these cute kids wall stickers.
Add a Touch of Sunshine
Have you ever thought of adding a hue of yellow to the bedroom? It will surely brighten up the room. Choosing sunshine yellow as the bedroom's theme would be a great bedroom decor idea as it is bright and dazzling and goes perfect with white. You can contrast the white walls with yellow shelves and arrange yellow pillows, cushions, and a throw on the neat white bed. Also, a similar shade doormat and a wall clock will make the room look brighter. You can keep this colour combination for a long time as it is suitable for all ages.
Floral Elegance
Floral bedroom decors are always a girl's favourite. Pastel-shaded floral wallpapers will give a dainty look to the room, or you can select a colourful floral art wall poster to provide a gorgeous look to the white headboard in your girl's room. Puttin a digital printed floral pillows and a comforter on the bed to complement the wall decor is recommended. Give the room a charming look by placing a floral hanging light on one side. This décor will make the room look elegant in daylight and even at night when the lights are on.
Bright and Quirky
The bedroom's décor doesn't have to be pinks, purples, and other pastel shades. You can make the bedroom colourful by putting a multi-colour canvas art print on the wall to create a stunning look. You can also add a bunk bed with a storage unit if more than one person shares the room.
Try to give a bright look to the bed by spreading a contrasting colour bedsheet with pillow covers. Lastly, a study table would be perfect and will complete the bedroom's look.
Touch of Royalty
Every girl deserves the best, and to make her feel so, and you can give the room a royal feel to make it feel special. A queen-size bed with a satin bedsheet and matching pillow covers will help bring that royal look. Every girl loves to dress up and feel beautiful, so ensure that you add a dresser and mirror to the bedroom.
Placing the double door wardrobe in one corner of the bedroom will provide a lot of space in the bedroom where anyone can freely move about and play dress up. You should enhance the floor by placing a runner at the foot of the bed, and this will create depth in the room. You must also get some trendy wall lights that will brighten up the room and give it an aesthetic look. The hue coming out from the wall lamp will indeed elevate the room's beauty.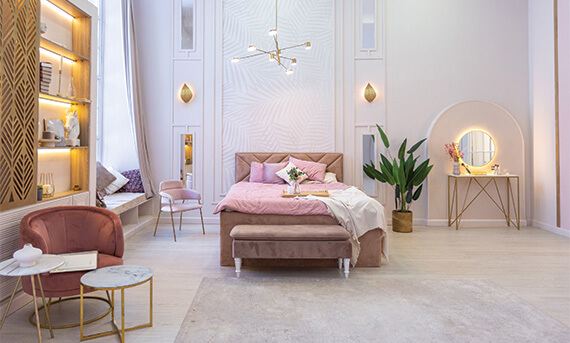 For the Modern Lady
For your stylish and classy look, you can design the room with an artistic touch and a visual appeal. You can use monochrome shades of grey or light pink for the bedroom decor. A king-size upholstered bed would be a comfortable fit for the decor and ensure a good night's sleep. You can add a few coloured cushions, such as a pink shaded cushion for extra comfort and a visual appeal.
With the growing needs of children, adequate space for studying is essential, so that a sleek study table would be highly recommended. A perfect study chair would be the right choice to provide comfort while studying for long hours. To add to the room's aesthetics, elements like a metal owl dream catcher would be a perfect match for her modern bedroom. Lastly, a colourful curtain would add charm to the bedroom and complete the look.
Abstract Decor
Many young girls are fond of abstract art, and this can be used as an advantage for designing the room as per a young girl's taste. Let's start with the bed, which can't be more appropriate than a black striker queen bed. You can spread an abstract double bedsheet and matching pillow covers to enhance its contemporary look.
A chest of drawers in the room can be helpful for storing personal stuff. Choose the same wall where you have placed the chest of drawers to hang an exquisite metal wall art. You can even hang a wall-mounted wooden photo collage frame on one of the walls and add the childhood photos of your daughter. Decorating the floor with a multicoloured abstract pattern doormat will give a new dimension to bedroom decor.
Summing Up
Whether your daughter is an adorable toddler or a smart teenager, she needs her own space to match her taste. The room should be decorated as per her requirements, and the decor should showcase the young girl's personality. Pepperfry allows you to design your girl's room with various furniture and decor items. Choose the one that suits her taste and give her a room to which she will always look forward to coming back.