Do you feel like a boy in front of a candy store whenever you look at someone tending to their immaculate home garden full of hibiscus and petunias while the closest thing that you have to a yard space is the under-construction part of the parking lot?  
After all, since you are put up on the 17th floor of a high-rise apartment, there is very little chance of ever fulfilling your gardening desires, right (unless The Talented Mr. Musk comes up with something like floating lawns in the future)?
Well, not really. That's because, in all probability, you already have a garden space; you just haven't recognized it yet (drumroll, please): the balcony!
10 Balcony Garden Designs That Will Revive Back Your Gardening Spirit
When it comes to balcony garden designs, ideas are a-plenty. Having said that, designing perfect balcony gardens is all about analyzing the potential of your balcony space (space, layout, sun-facing or not, etc.) and matching it to your specific gardening options (vegetables or flowers, budget). 
After all, you can't hope to be growing cucumbers and eggplants if your balcony doesn't receive any sun whatsoever!
So then, check out ten of the best balcony garden ideas that we have picked for you and pick a design that suits your taste and requirements.
A Sunny Retreat
We have already mentioned that not all balconies are made equal. But if you're blessed enough to have the grace of 'A Thousand Splendid Suns' right inside your balcony, citrus is the way to go! Irrelevant literary puns aside, make sure you have some nice and colorful umbrellas to protect your fruits from too much sun, either.  
Edible Gardening  
Why go to the supermarket for spring onions and oreganos when you can grow them right on your balconies? Just keep a couple of precautionary measures in mind with this design. Make sure the wooden pallet has holes at the bottom to avoid root rot in the vegetables. Also, make sure that the wood itself does not have any preservatives that can leach through and contaminate the vegetables. 
A Mini Lawn
If you've been scratching your head for small balcony design ideas, look no further. Get an Astroturf for your balcony floor and line up the walls with edible kales, small terracotta pots, and flowers. Congratulations, you just saved yourself a ride to the City Park! 
A Hanging Garden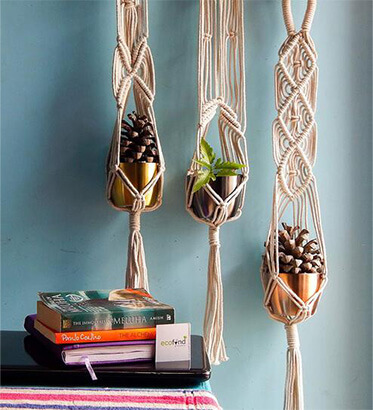 Nope, not offering tickets to Babylon (as yet)! In fact, we are talking about planter stands and terracotta pots from the wall with hooks. Save water by using metal-rod rain chains to connect different pots, so that excess water always flows down to other pots.  
Colorful Pots Display 
You would be amazed at how much a simple and bland balcony can be transformed with the addition of a few bright and colorful pots and plant markers. However, if you don't want some uninvited visitors (aka birds) to share your amazement and appreciate your garden aesthetics, always use a net around the balcony. Now get an ottoman, put your feet up, and just chillax! 
Home Island 
 Love your balcony so much that you don't even realize where your indoors end and the balcony begins? We get it. With growing citrus trees, flowers, and herbs on shelves, and some indoor decor essentials out in the open, you can create a private island for yourself just outside your bedroom. 
Now tell us where you want your coffee: Starbucks or here? 
Window Garden 
Don't Italians have a happy knack for making fashion trends out of small details? When it comes to balcony gardens, there aren't any exceptions either! Even if you have got a small window space to play with, you can hang some colorful petunias in window boxes and add a bit of greenery on small pots for a view that is simply breathtaking from the outside.  
Who said small balcony decor ideas can't be pretty to look at? 
A Balcony Deck 
If you're obsessed with wooden floor decks that make you feel like you're cruising through the Atlantic, holding onto the stern handrails, we do not blame you at all! But things can get even better when you deck up your balcony.  
Add a few flowering plants and a fruit tree to the space with neutral tones and comfy textiles to make it your number-one lounging spot. And, yes, of course, you can always recreate the iconic Leo-Kate Titanic arms-wide scene with much less dire consequences! 
Garden of Contemplation 
If you're looking for a place to escape from the daily hustle and hit your daily Zen state, we have got the right garden design for you. A small water fountain with pebbles and natural plants makes this balcony the perfect setting for relaxing and connecting with nature.  
Add some Peder Helland instrumentals for ambiance, and use the balcony as your primary meditation spot.  
Balcony cum Living Room 
How about entertaining some new ways to entertain your guests? No shit, we're talking about the balcony again! If you have enough space, get some comfortable seats and a small table for drinks. Include the right combination of colorful hanging planters and monochromatic furniture for a shabby chic appearance. 
Add to that some pulsating decibels of Red Hot Chilli Peppers amplifying from the indoors, and you have got another hell of a spot for partying!
Transform Your Balcony Space Today
Now that we've shown you a range of options for a Pro-level balcony gardening game, we bet you're already putting on your gardening gloves.
But hold on, not so fast. Before you go through with it, check out the Pepperfry website first (since it could get a little tricky clicking and typing with gardening gloves on) and explore more beautiful designs and furnishing ideas that will compliment your personal garden.